Re:Lloyd's Original Doctrine (1954)
Date Posted:09/12/2007 12:54 AMCopy HTML
Longfield & Hollins Leave the CRC - Flames of Revival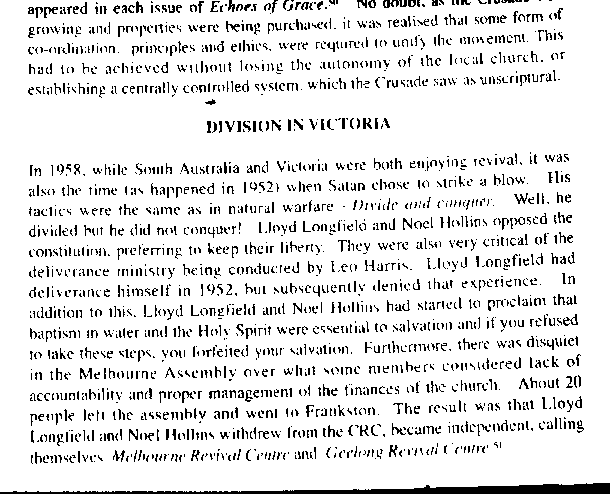 I have heard ex-Melbourne RCI leader (now RF) say that Lloyd Longfield was probably a universalist. Apparently he believes that while most will miss out on the first ressurection, EVERYONE will be brought into God's Kingdom in the 2nd ressurection.

This in essence means that EVERYONE will be saved...eventually.I asked this ex-leader why Lloyd doesn't say that publicly and he said that Lloyd was probably afraid that people would take that as a licence to sin and things would 'get out of hand' in the church (and we know how Lloyd liked to keep things 'pure' and under control right?).

Perhaps this explains why LL is so callous about kicking people out. He doesn't believe tht people go to hell at all...at least not for eternity.You know, when I think back, we never heard much talk about hell at all in the Melbourne RCI. We heard LOTS about missing the Lord's return and the first ressurection but almost nothing about hell from the platform.
[LINK SiteName=Mothrust: Movies and Modern Myth Target=_blank]http://aintchristian.blogspot.com.au/[/LINK] Be nice, for everyone that you meet is fighting a harder battle - Anita Roddick